July 11, 2023
VILNIUS, LITHUANIA – Today, U.S. Senator Pete Ricketts, Ranking Member of the Senate Foreign Relations Subcommittee on Europe and Regional Security Cooperation, reiterated his call for NATO allies to honor their defense spending promises and engage with the ongoing threats posed by the People's Republic of China (PRC). Ricketts joined a bipartisan delegation attending the 2023 NATO Summit in Vilnius, Lithuania, where they held various meetings with global leaders, met with U.S. troops at Camp Herkus, and participated in a press conference.
"A strong and effective NATO is more critical to global stability than ever before," said Senator Ricketts at the Summit. "Our adversaries are intent on displacing America's leadership in the world. They're attempting to disrupt the rules-based system that we set up, which has kept the peace for nearly 80 years. Our NATO allies must step up to meet their 2% GDP commitments for defense spending. We must also collectively and cohesively prioritize efforts to combat the growing threat of the Chinese Communist Party."
The delegation was led by U.S. Senators Jeanne Shaheen (D-NH) and Thom Tillis (R-NC), co-chairs of the Senate NATO Observer Group. Ricketts, Shaheen, and Tillis were also joined by Senate Majority Whip Dick Durbin (D-IL) and U.S. Senators Dan Sullivan (R-AK) and Angus King (I-ME).
Yesterday, Ricketts and the delegation visited Camp Herkus, the U.S. Army base in Pabradė, Lithuania. Throughout the summit, they met with Petr Pavel, President of the Czech Republic; Sviatlana Tsikhanouskaya, Belarusian opposition leader; Gabrielius Landsbergis, Lithuanian Foreign Minister; Annalena Baerbock, German Foreign Minister; and Yoon Suk Yeol, President of South Korea, who addressed a joint meeting of Congress in April.
The delegation also met with:
– President Joe Biden
– Anthony Albanese, Prime Minister of Australia
– Ulf Kristersson, Prime Minister of Sweden
– Edi Rama, Prime Minister of Albania
– Ben Wallace, Secretary of State for Defence of the United Kingdom
– Nicolae "Nicu" Popescu, Moldovan Minister of Foreign Affairs
Ricketts has repeatedly called for NATO ally countries to meet their defense spending commitments. Last month, Ricketts said this inaction is "depriving the alliance of tens of billions of dollars in defense (spending) that could be used toward deterrence. We really need to see this happen."
You Can Find Audio of the Press Conference in Vilnius HERE
You Can Download High Resolution Photos of the visit to Camp Herkus HERE
You Can Download Additional High Resolution Photos HERE.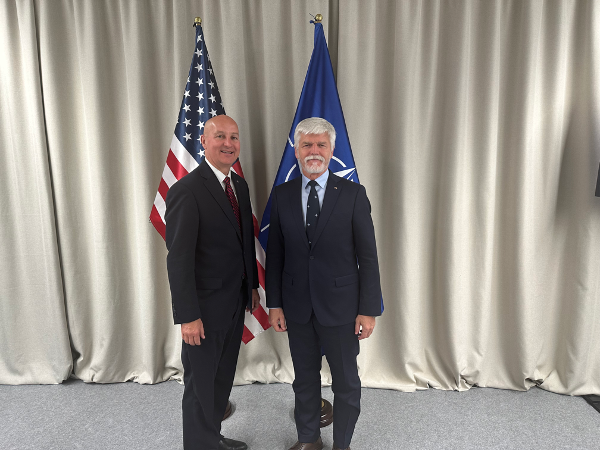 Senator Ricketts and Petr Pavel, President of the Czech Republic.

Senator Ricketts and Sviatlana Tsikhanouskaya, Belarusian opposition leader.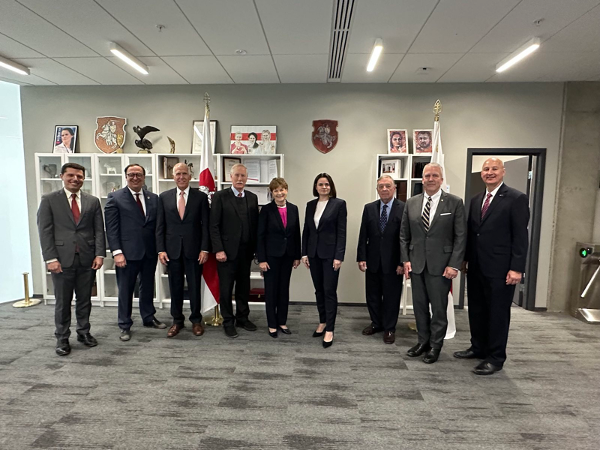 The delegation and Sviatlana Tsikhanouskaya, Belarusian opposition leader.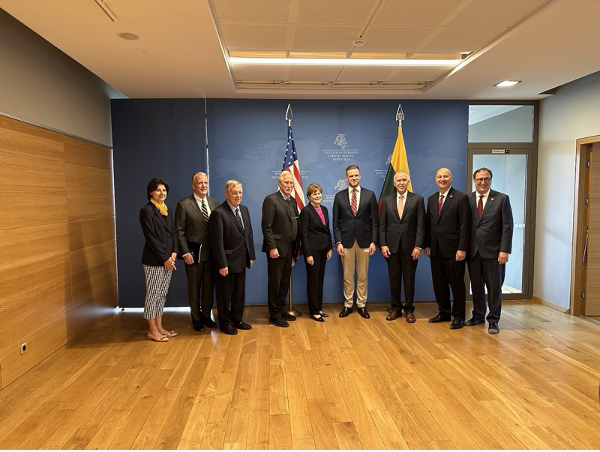 The delegation and Lithuanian Foreign Minister Gabrielius Landsbergis.

Senator Ricketts and South Korean President Yoon Suk Yeol.

The delegation and German Foreign Minister Annalena Baerbock.
###
Follow Senator Ricketts: Instagram, Twitter, and Facebook
To join Senator Ricketts' press list, please click here.