May 19, 2023
WASHINGTON, D.C. – Today, U.S. Senator Pete Ricketts (R-NE), Ranking Member Mike Braun (R-IN), and Chairman Bob Casey (D-PA) along with members of the Senate Special Committee on Aging sent a letter to the Federal Trade Commission (FTC) Chair Lina Khan requesting information on the FTC's efforts and strategies to protect older Americans from the growing threats posed by artificial intelligence (A.I.) related frauds and scams. Over the last year, there has been an increase in cases where scammers use A.I. to impersonate family and friends to scam people, the majority elderly.
"Combatting frauds and scams has been a longstanding priority for the Committee across annual hearings, the Committee's fraud hotline, and its fraud book," the senators wrote. "You recently noted how 'generative AI risks turbocharging fraud.' While AI contains significant promise as an innovative technology, it can also be manipulated by malicious actors targeting vulnerable populations, particularly older Americans."
In addition to Ricketts, Ranking Member Braun, and Chairman Casey, the other members of the Senate Special Committee on Aging who signed on include Senators Tim Scott (R-SC), Marco Rubio (R-FL), Rick Scott (R-FL), J.D. Vance (R-OH), Kristen Gillibrand (D-NY), Richard Blumenthal (D-CT), Elizabeth Warren (D-MA), Mark Kelly (D-AZ), Raphael Warnock (D-GA), and John Fetterman (D-PA).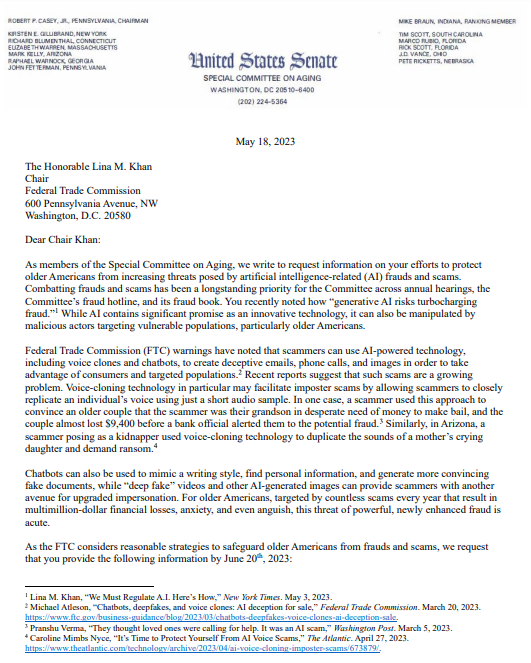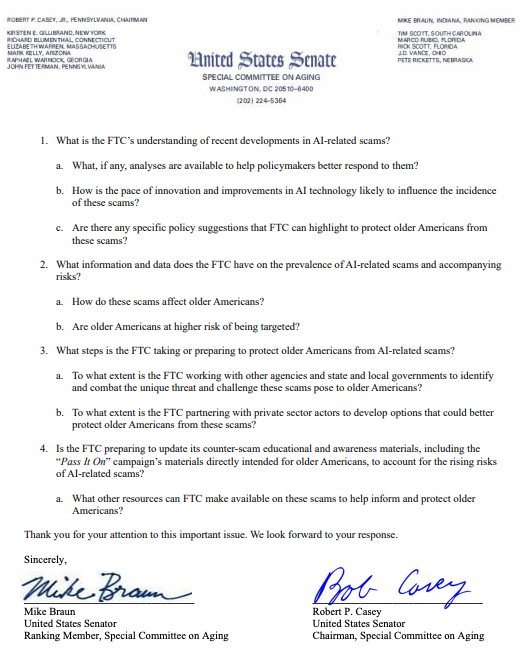 Read the full letter HERE.